Original clip - Back to the start
(2013/07/23)
GPS track
(2013/07/11)
Upload your GPS tracks or draw your tracks from MTBO 5 days:
http://www.mtbo.eu/routes/cz/
Thanks
(2013/07/08)
On behalf of the organizers, thank you for your participation and great atmosphere!
We hope that you have enjoyed this sunny days and we look forward to see you again in two years in Pilsen :-)

3 x 3 is 8
háša
Results
(2013/07/04)
Check results here
Honey
(2013/07/01)
In event centre is possible buy homemade honey (130CZK/kg)
Offer is limite, first come first served
Ask Hasa
Accomodation and bedlinen
(2013/07/01)
Bedlinen are included in rooms
Bulletin
(2013/06/29)
Startlist (2013/06/28)
Startlist is published, chnages in startlist is possible only in event centre.
Startlist (2013/06/27)
Startlist is published
Additional requirement for meal order (2013/06/27)
Changes and additional meal order in event centre (menu)
Every day in 7:30-8:30 is possible order meal on next day (orders directly in canteen)
Meal time:
Breakfast 7:30-9:30
Lunch 12:00-14:30 (Stage 4 12:00-15:00)
Dinner 18:00-19:30 (till evnening ceremony)
Meal Order in Canteen (2013/06/24)
Remember meal order is possible only till June 26
Entry form closed (2013/06/24)
Online entry form definitely finished!!!
Later registration in event centre.
Startlist is in process, start number are printed.
Changes in registration send us by email, entries are limited by startlist, there is only limeted count of free positons!!!
Catering menu (2013/06/24)
Preliminary menu from catering
| | | |
| --- | --- | --- |
| 150g | Smoked pork on the grill, bread, mustard | 55,- |
| 200g | Chicken steak, mustard, bread | 75,- |
| | Hot Dog | 15,- |
| | Sausage (ham, pepper) | 40,- |
| 120g | Fried cheese, fries, tartar sauce | 85,- |
| 250g | Vegetable salad with chicken and dressing | 85,- |
| 250g | Pasta salad, Fried steak | 85,- |
| 150g | Fried steak | 55,- |
| | Toast with meat mixture and grated cheese | 40,- |
| 200g | Pasta Gratin | 75,- |
| 200g | Grilled vegetable (eggplant, zucchini, tomato, peppers, onions, etc.) | 75,- |
| | Soup | 30,- |
For breakfast fresh pies, rolls etc .
Training maps (2013/06/17)
Training maps will be available in event centre from June 30
Nabídka stravování (2013/06/13)
In event centre Sklarna is possible order meal:
breakfast-lunch-dinner - menu in order form
breakfast: 55CZK
lunch: 90CZK
dinner 90CZK
There are not many possibilites to buy foods or find restaurant around, we recommend to order meal.
Order till June 26
Make order in order form. We pass on your order to conductor, you will pay directly to him.
The meal is possible order in the place of event, but it is limited.
It's not allowed to cook in dormitory or hotel, it is possible only on your own cooks outside.
The lowest registration fee till friday (2013/06/02)
You have more time to registrate for the cheapest price, registrate till Friday June 6.
News from organizatiors (2013/06/01)
mtbo5days inluces 5days OB for children (entries in event centre)
shop with common bike componetns will be avilable, service is on your own(take also special components for your bike)
catering Rudolf Jelínek looking forward for you, it offers sweet breakfast, soups and grilled meal
map is ready, check it :-)
Avilable accomodation (2013/05/20)
Accomodation in Sklarna is still available, you can make reservation
Additional accomodation is available nearby in Poustky
For booking this accomodation contact us by email
There will be extra fee 100CZK for providing this reservation
offered room (all rooms are with private bathroom):

3 x 1bed room (290CZK/night)
6 x 3beds room (780CZK/night)
6 x 4beds room (960CZK/night)
Additional information (2013/05/13)
New accomodation capacity available now! Next capacity will be available on 20th May.
Do you travel in small group or alone?
Have you booked a room, but you won't need all beds or do you want single bed, but not whole room?
Are you open to share room with other foreign competitors?
Let us know via email.

It is possible to use SI card from series 10 and 11.
Bulletin, entry and accomodation (2013/05/08)
Bulletin is online, entry and acommodation reservations are running
Meal order will be available later, after publication of menu.
Anniversary year for MTBO 5 days (2013/04/29)
Preface or invitation by pilsner bikers
Dear competitors, while our web-master is having a rest, we are fully on organization!
Check it:
map area 45km2 is almost ready
the centre of all stages is in the accommodation site
there is 360 beds ready for you
we have tested the O-triathlon relay routes during Eastern
the party tent will be big
the evening parties with suprice, as usual
What is missing? The official description, do we need it at all? To train some "numbers" for parties To run the application and booking system for accommodation, it will be availible on May 8
PS: we are preparing greate suprice for you.... look carefully the web-page, to be continued on May 1st!
We are looking forward to see you in 5days :-) your KOS Pilsen team
INVITATION FOR 2013 (2012/10/07)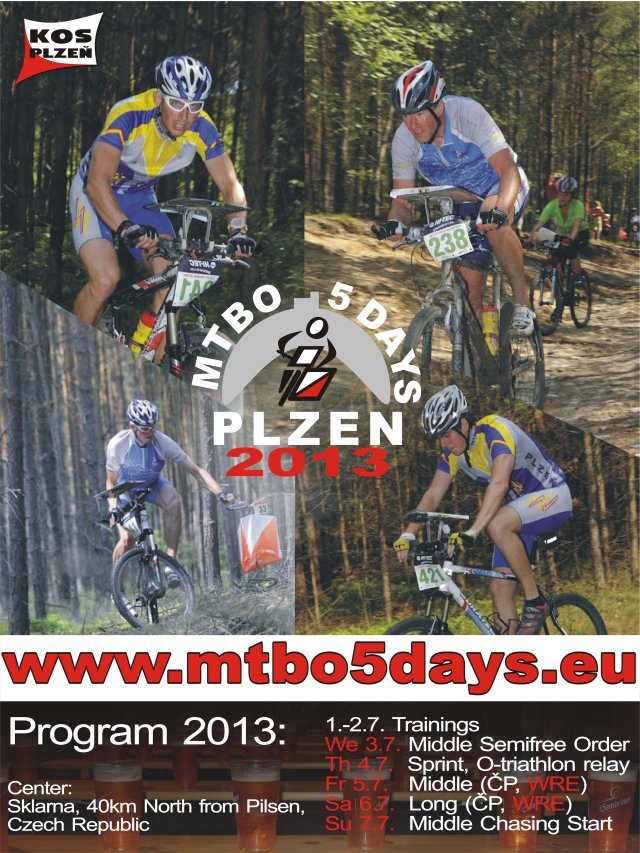 Dear MTBO friends
We present the fifth 5 days MTBO! It is planned as follows:
29.6.-2.7. training opportunity in Pilsen * maps availible by organizers* Accommodation for this period won't be organized, please book by yourelf, e.g. Ostende.
Races:
3.7. E1 "středa, předjede tě starej děda" – middle semifreeorder
4.7. E2 "čtvrtek, přefikne tě bílej krtek" – sprint, O-triathlon relay
5.7. E3 "pátek, bekérskej máš svátek" – middle ČP, WRE
6.7. E4 "sobota, těžká večírková robota" – long ČP, WRE
7.7. E5 "neděle, bacha, jedeš do pr..." – chasing start PELMEL
Centre: Sklarna, 40km North from O-bike Czech city centre (Pilsen) Accommodation will be organized via this web-site, information later.
Looking forward to seeing you at Sklarna. KOS Plzeň